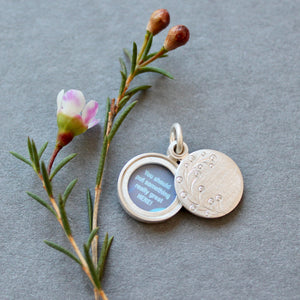 mabotte - jewellery to remember

● as a keepsake for your memories
● made to last and to be passed down
● one of a kind pieces that stand out



mabotte lockets
What makes the mabotte locket so special?
● First of all it is very easy to open the locket as it is a swivel locket.
● All lockets are handmade in my workshop from solid sterling silver or 18ct gold. The extraordinary quality and craftsmanship ensure that the locket will last a long time and will be kept as a family treasure over generations.
● You will find plenty of designs to choose from: romantic, floral, typographic or minimalist. But if you have something special on your mind, contact me, I try to make it possible. Custom orders are always welcome.
You will find more details about my lockets, available sizes, prices and shapes in the locket info section of the main menu.